Goat Island Marina
More about us...
Total berths 175 • Transient 20 • Wood fixed and floating docks • Alongside dockage • Max LOA 250ft • Max draft 15ft • Power 30/50/100/480 amps 3 phase • Water • Pump out • Wi-Fi • Easily accessible fuel dock equipped with high speed pumps • Mail & package hold • FedEx/ UPS shipping • Cable TV • Heads & showers • Laundry with washer/dryer • 24h security watch • VHF 09
Onsite:  Crew lounge with internet and TV, large banquet facility for private functions, parking area located close to the docks, recycling bins, water shuttle stops, full concierge service.
The only marina on the west side of Newport harbor, located in the quiet residential community of Goat Island and offering spectacular views of Newport. Linked to downtown by a short causeway, and a water shuttle goes back and forth on a regular schedule. Guests appreciate the serene alternative offered by its location, just minutes away by car or bike from the bustling waterfront scene across the harbor. The Goat Island Hyatt Hotel, with its spa, hair salon, fitness center, outdoor pool, tennis court and restaurant is a short walk away. Friendly manager Michael Sweeney get great reviews, and he and his team, are very helpful. Reasonable rates. A great place for a short visit or a long break.
Tel:  (401) 849 5655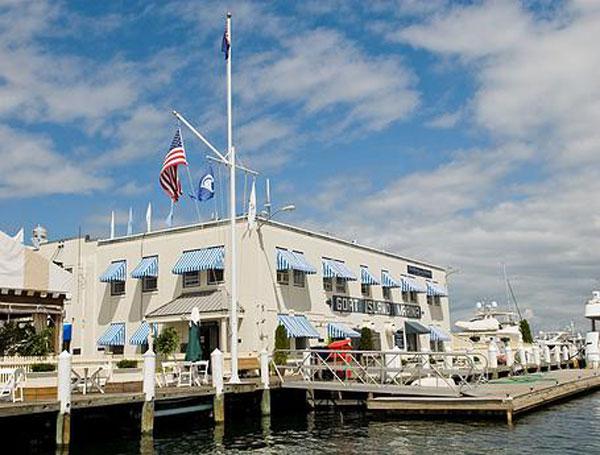 Category(s)
Destination(s) where you can find this listing